Parent Survey
Look how far we have come, according to your views!
For your chance to feedback to the school on pertinent issues please follow this link for the Parent's Forum:

Parent View gives you the chance to tell Ofsted what you think about your child's school, from the quality of teaching to dealing with bullying and poor behaviour. The survey can be completed at any time; you don't have to wait until the school is being inspected.
Each year, Governors will seek your views about many aspects of school life. Together, we are seeking to develop a school which is one we are all proud of and all feel we have made a contribution towards. We can only act on your feedback if you offer it, so please participate in school surveys and make your views known. We make every effort to listen to feedback and priorities school improvements with your observations in mind.
Thank you to the 100 parents who completed the questionnaires. And many of the lovely comments you made. Your thoughts and opinions are invaluable to us and helps mould the school moving forward.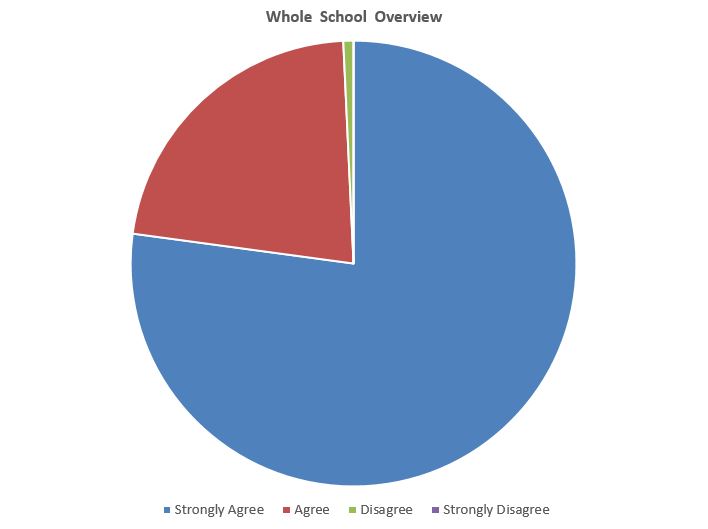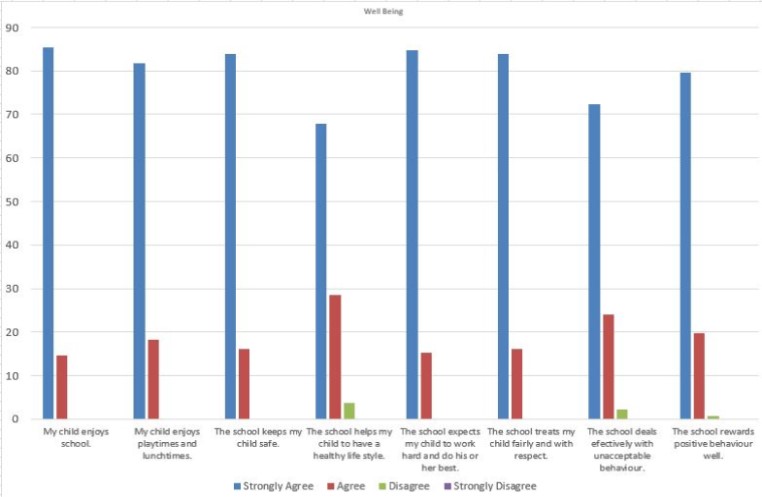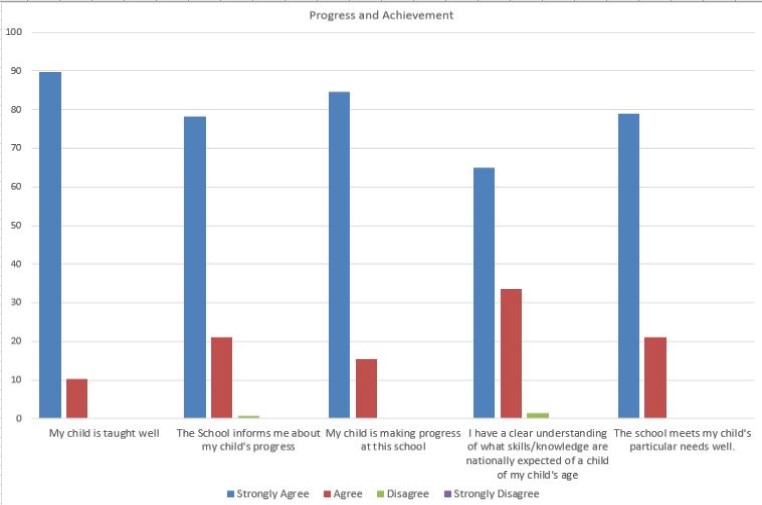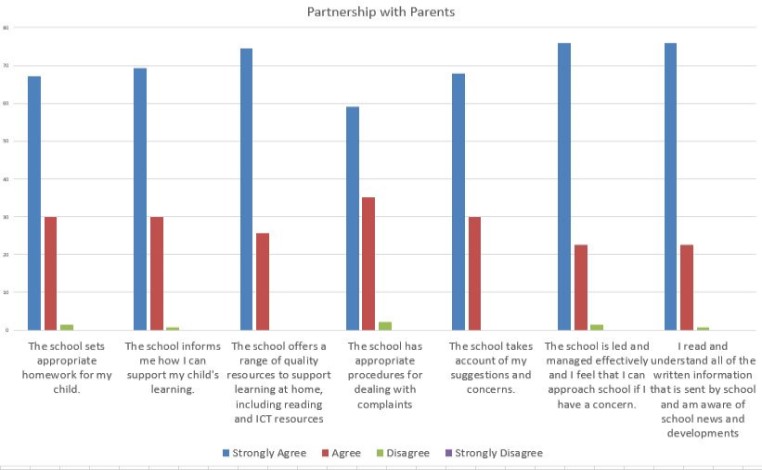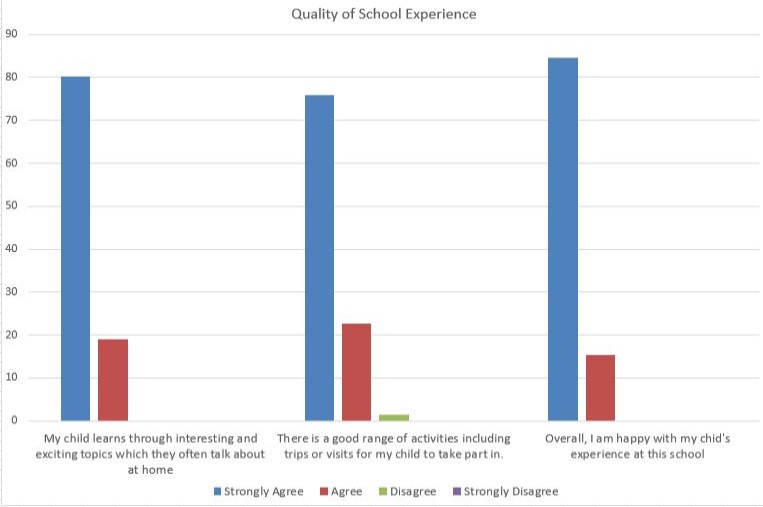 We asked you what you liked most about Cookridge Primary here's a few of the many compliments we received.
Forest schools in inspiring and effective.
The teaching and ethos of the school.
The friendly welcoming environment, staff are approachable and helpful and make our child want to learn.
I particularly like the cross curricular work and the emphasis placed on more real life experiences.
Atmosphere, learning styles, fun and engaging children who seem to really enjoy what they are doing.
The topics and the way you teach them really encourages imagination and it's fun.
All the time the children spend outside learning.
The positive approach from teachers and the way the children are encouraged to work through exciting topics and trips.
Inclusivity, diversity, pupils are treated as individuals—friendly atmosphere.
Absolutely everything. I love it!
You said
What we do
Well Being

5/100 parents disagreed that school helps their child to have a healthy lifestyle.

Questions were raised over Food provided for school dinners, time available to eat, birthday treats and fundraising.

We were awarded Healthy Schools Status last year and continue to support this.

We work closely with Pinnacle who provide school dinners to ensure the children have a healthy balanced lunch. All the information regarding this is available on the website. and meets the government standards. No additional sugar is added to any school desserts.

We follow the family service model, we have 2 sittings and all children have 30 minutes to eat which has proven to be been sufficient time for children to finish.

We requested that parents donate a book to school rather than bring in sweets to recognise their child's birthday. If parents send sweets we hand them out at the end of the day and request children do not eat them until they have parental permission. If you do not want your children to be given them please speak to your child and inform the class teacher.

We hold very few fundraising events where sweets and lucky bags are sold, these are exempt from Health schools standards (please see the policy). If you do not want your children to participate please speak to your children and their class teacher.

3/100 parents disagreed that the school deals with unacceptable behaviour

1/100 parent disagreed school rewards behaviour well

We have a clear behaviour policy 'Good to be Green' that works with restorative practice principles. We shared these with parents in the newsletter 23/11/2018 All unacceptable behaviour in school is dealt with. As a result the number of incidences have reduced term on term since September '18

We introduced Green time on a Friday afternoon for all pupils who stay green all week . Children are all part of a team and also receive team points which are used to individually reward but also go into rewarding the winning team a termly trip to the Big Swing

Partnership with Parents

3/100 parents disagreed that school has appropriate procedures for dealing with complaints

School follows and works within the local authority procedures. The policy is available on the school website.

2/100 parents disagreed that they read and understand all of the written information sent by school and are aware of school news and developments
Detailed newsletters are emailed out weekly, most schools provide these half termly but as we love to share with you what the children are doing we have committed to sending them weekly. Please ensure you keep us up to date with your email address to ensure you receive them. They are also available as paper copies from the school office.

We have been working hard on a new website and App which is due to be launched April 2019, all communication will go through these applications please ensure you download the App. Further information will follow shortly.

2/100 parents disagreed that there is a good range of trips or visits for their children to take part in
We try hard to get a good balance of trips and experiences that enhance the children's learning. We are working within tight budgets and are also mindful of the cost and not asking for too many financial contributions from parents.
Other Comments

More after school clubs

We are under no obligation to offer after school clubs and made a decision several years ago that teachers focus after school would be on marking books and preparing for the following days teaching to ensure all pupils have access to an excellent education.

After school clubs are run every night by external agencies and some staff.

Provide individual music lessons
All children have music lessons in school taught by a music specialist . We invested heavily in individual lessons previously and although initial take up was good it was not sustained and therefore no longer viable. If there is currently a demand we would be willing to look at this again.
February 2018 Parent Survey
The school helps bring topics to life for my daughter and I think it really captures the imagination. The way the children are encouraged to read and do optional homework topics makes it fun and pleasurable for them. I think it makes them want to do more!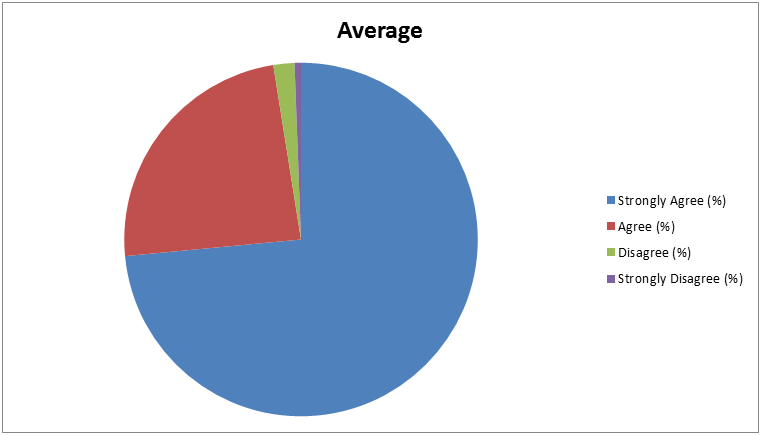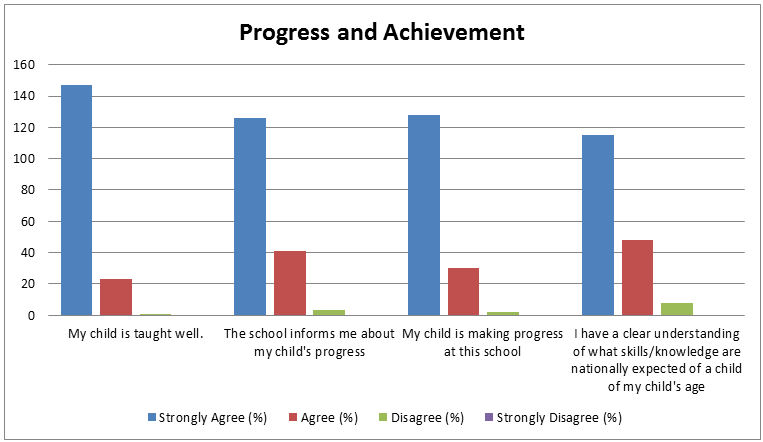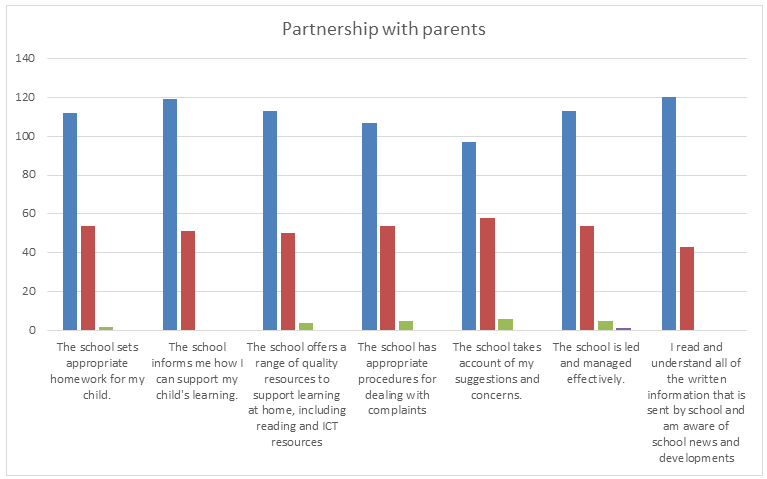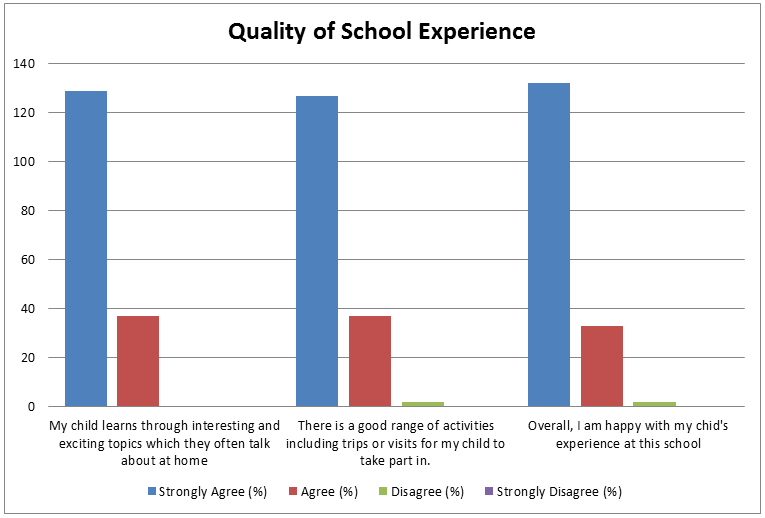 Feedback Quotes
How the fun approach/delivery of learning is… everything is so interesting and fun!
Everything. Teachers are excellent.
Very friendly and supportive.
The standards of behaviour the teachers expect and implement are superb.
Their friendly and amazing staff.
Learning through play and that any problems are dealt with straight away.
The staff! Some fantastic teachers. The calm, positive approach to testing. My children have all been happy here.
All the extra's such as Forest School, working in the garden and carousel learning
Feels like a big family. It feels like each child really matters and that each child's individual needs are taken into account. Fantastic teaching resources and ideas!! Lovely Reception teachers J
The way learning is brought to life is fantastic, the effort the school goes to at making things fun is so good – the alien particularly captured imagination. My daughter loves school, her teachers and her friends
November 2017 Parent Survey
Thank you to all parents who took the time to feed back, we had the largest return so far with 149 parents completing the questionnaires. A comparison with previous questionnaire shows an increase in satisfaction. With 100% stating their child is taught well and they are happy with their child's experience at Cookridge. A fantastic achievement!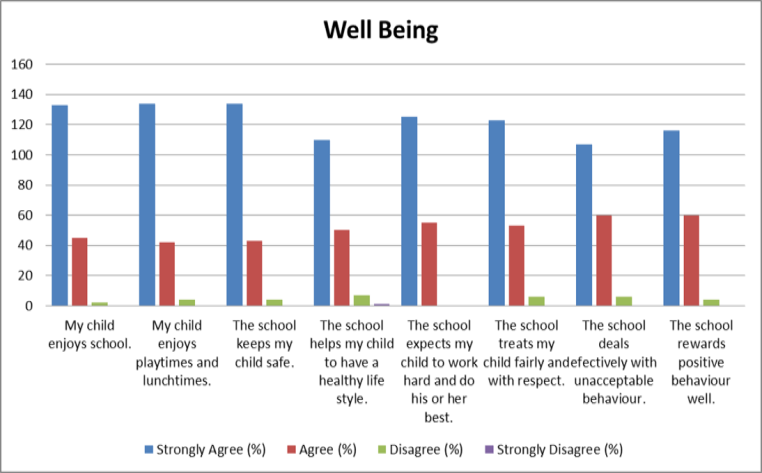 Our healthy school dinners comply with School Food Standard regulations, further information is on the website. Did you know our puddings contain reduced sugars and often have hidden acceptable vegetables in them?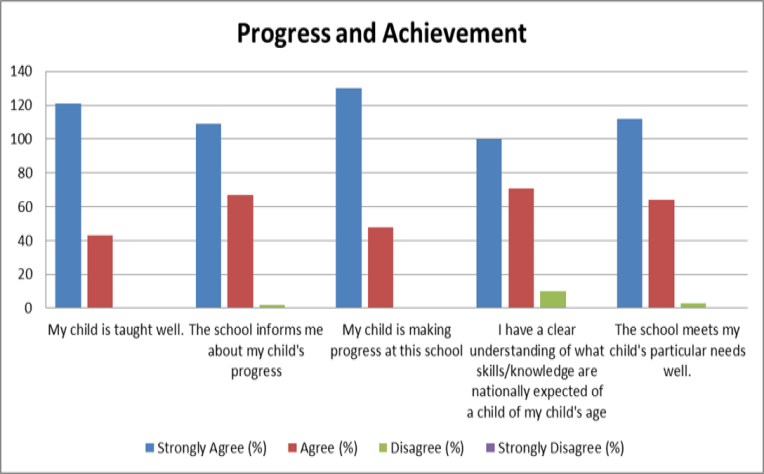 Parents who completed the surveys after the consultations had a good understanding of national expectations for their children. Attending our parent and phase events is a good way to keep up to date.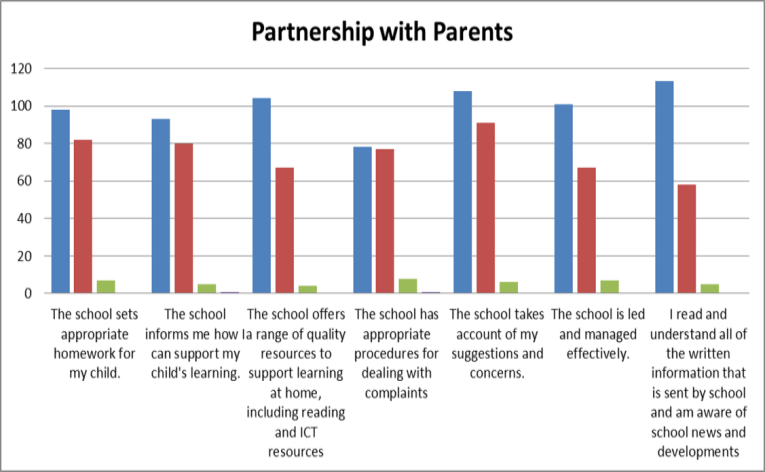 Some parents were unaware of our policies and procedures, all the information you need is on our school website or alternatively is available via the school office.
Please take time to look at our communication, we keep you informed through newsletters, email, text messages and the school app. To ensure you receive emails and texts please sign up to ParentPay and keep the school office updated of any changes to contact information.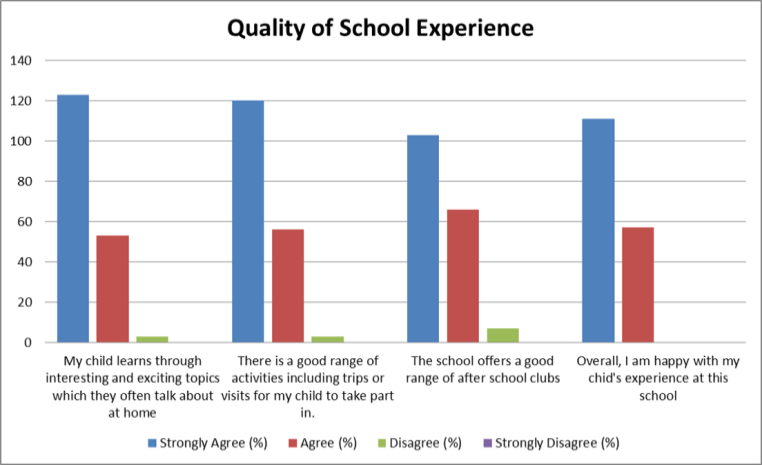 There are currently 9 high quality after school clubs currently running, led by professional coaches and specialist teachers. Staff have historically run several clubs however their key focus now is the teaching and learning of the children and as such are concentrating their time after school on this area.
Feedback Quotes
Have a look at some of the comments parents made when we asked
''What do you like most about Cookridge Primary School?''
We love the ethos and Forest Schools provision.
Very supportive with my family.
Brilliant school, brilliant staff
Outdoor play and evidence-based philosophy.
Friendly and welcoming.
The staff
Multicultural environment. Friendly staff.
My child is happy and content here.
You do what you promised you said you would do.
Thank you, A*
The kids enjoy coming.
Support of teachers.
That the children enjoy learning and look forward to coming to school (Learning in a fun way)
Keep you updated with events.
Tapestry is great. My child feels valued and enjoys school.
Every child is given a chance.
The ethos of the school and the staff they appear motivated and interested in doing the best for the children.
Learning through play which is appropriate for Reception. Lovely teachers, good range of learning activities. Great atmosphere.
It sounds fun! My child enjoys learning because he is having a ball! Thank you x
The way the teacher interact with the parents and children.
The staff are always happy to discuss concerns regarding children and any issues.
Excellent balance of 'academic' and 'creative' subjects.
Friendly and caring
Good leadership. Friendly teachers. Don't send lots of homework, instead focussing on reading and fun outside school which I agree with and feel is important.
Focus on building on self-motivation and inspiration – the rest follows…
Forest Schools – example of forward thinking.
Play-based learning, lovely creative outside area. Lots of opportunities for pupils to taken own responsibility in learning.
The outdoor education opportunities are exciting and my child is happy and well supported here.
I think the school does such a good job to engage the children. They make learning fun and my daughter really enjoys learning and coming to school. It's great to have the opportunity to be included in things at school like mystery reader and see children in their school environment I am very excited about the school moving towards the Forest Schools model. I feel children benefit hugely from that particular way of learning. I like the fact that it's a nice atmosphere.
February 2017 Parent Survey
Thank you to all parents who took the time to feed back, we had the largest return so far with 149 parents completing the questionnaires. A comparison with previous questionnaire shows an increase in satisfaction. With 100% stating their child is taught well and they are happy with their child's experience at Cookridge. A fantastic achievement!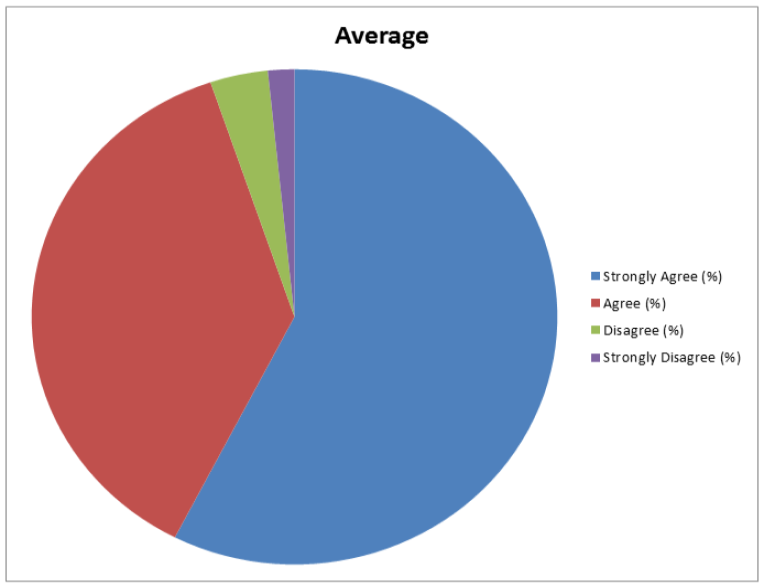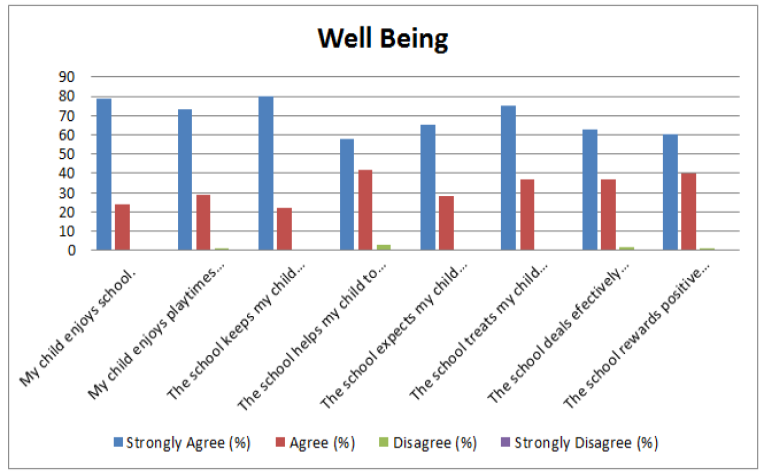 February 2016 Parent Survey
A big thank you to all parents who took time to complete the parent questionnaire. Over the next few weeks I will be sharing the results with you and the actions school have taken based on your suggestions and feedback.
A comparison with the data from Octobers questionnaire results shows the vast majority of parents are happy with how the school meets the wellbeing objectives for their children. Overall there is a 70% decease in dissatisfaction with a drop from 47 parents who disagree or strongly disagree with some of the statements to 14.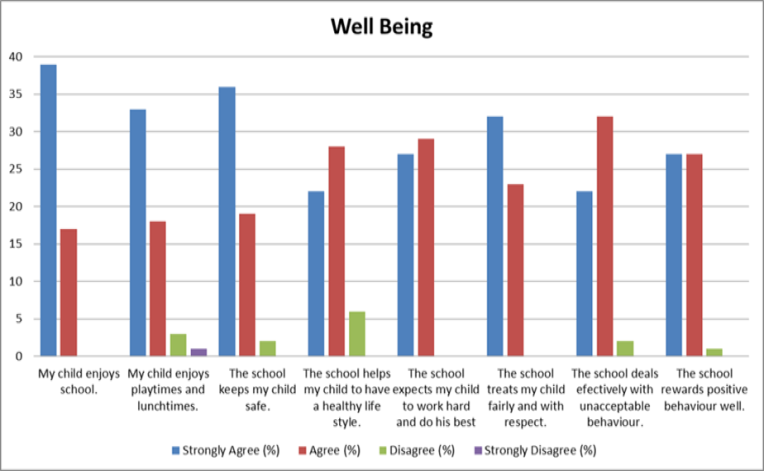 What we did:
School has recently employed 2 additional lunchtime staff to further facilitate play activities.
School has purchased additional resources for lunchtimes including art resources and board games.
Healthy schools will be a whole school focus from September 2017.
The schools behaviour policy is currently under consultation with children and staff.
More results from the parent questionnaire on Progress and Achievement. A comparison with the data from Octobers questionnaire results shows the majority of parents are happy with how the school meets the progress and achievement objectives for their children. Overall there is a 67% decease in dissatisfaction with a drop from 75 parents who disagree or strongly disagree with some of the statements to 25.
What we did
2 parent consultations have been held so far this year, the first one focused on the new assessing without levels system.
Parent meetings are held every term for each phase to explain how school is tackling different aspects of the national curriculum.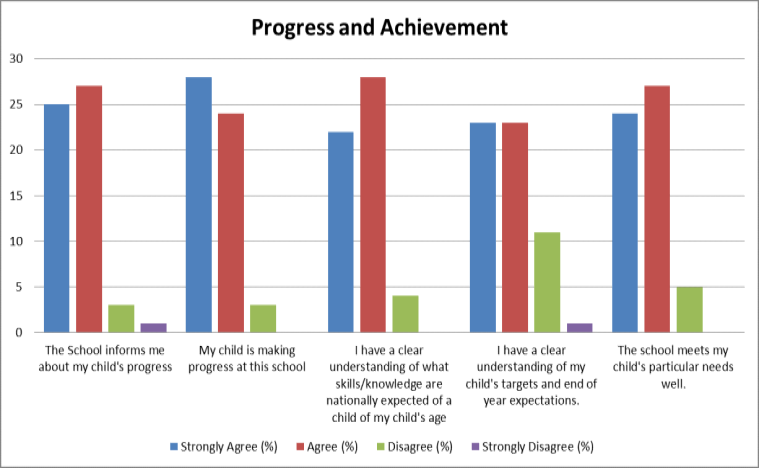 As you may be aware from the press there has been and still continues to be some uncertainty as to how children will be assessed. As and when school receives updates we will pass this information on to parents. If you are interested or would like additional information please have a look at the DFE website.