Curriculum Offer
Long Term Plans
Subject Guidance and Support
BRITISH VALUES & SPIRITUAL, MORAL, SOCIAL and CULTURAL EDUCATION
Spiritual, moral, social and cultural understanding (SMSC) is integral to our school curriculum and ethos and is embedded through day to day classroom activities such as philosophy for children, mind mate, bespoke PSHE lessons, RE, assemblies, curriculum content and skills. We have a high expectation of learning behaviours and expect these skills for life to translate into all elements of school life. We encourage children to have an understanding of themselves and their place within the society and country they live in. We believe children should be taught strong British Values to support their respect and tolerance of different faiths and beliefs and those without faith; an understanding of individual liberty, the rule of law and democracy. Through the curriculum we offer, children experience societal, world-wide and current affairs; through involvement and education on democratic voting processes and politics; through education and discussion about the law and justice system; through a strong sense of school identity and restorative approaches that encourage deep refection of individual actions and consequences; also through a celebration of individuality and success, team work and pride.
Where appropriate we encourage children to take responsibility for their own learning by completing homework projects based on topic themes.
Equality Statement
At Cookridge Primary School, we are committed to ensuring equality of opportunity for all pupils, staff, parents and carers irrespective of race, gender, disability, belief, sexual orientation, age or socio-economic background. We aim to develop a culture of inclusion and diversity in which all those connected to the school feel proud of their identity and ability to participate fully in school life.
We tackle discrimination through the positive promotion of equality, by challenging bullying and stereotypes and by creating an environment which champions respect for all.
At Cookridge Primary School, we believe that diversity is a strength which should be respected and celebrated by all those who learn, teach and visit us.
We will not discriminate against, harass or victimise any pupil, prospective pupil, or other member of the school community because of their:
 Gender.
 Race.
 Disability.
 Religion or belief.
 Sexual orientation.
 Gender reassignment.
 Pregnancy or maternity.
Cookridge Primary School does not tolerate any form of prejudice-related incident. Whether direct or indirect, we treat discrimination against all members of our school with the utmost severity. When an incident is reported, through a thorough reporting procedure, our school is devoted to ensuring appropriate action is taken and a resolution is put into place which is both fair and firm. We use the restorative practice approach, drawing heavily on our school.
Equality in Teaching and learning
We provide all our pupils with the opportunity to succeed and to reach the highest level of personal achievement. We do this by:
Ensuring equality of access for all pupils and preparing them for life in a diverse society
Using materials that reflect the diversity of the school, population and local community without stereotyping
Promoting attitudes and values that challenge any discriminatory behaviour or prejudice
Providing opportunities for pupils to appreciate their own culture and celebrate the diversity of other cultures
Seeking to involve all parents in supporting their child's education
Utilising teaching approaches appropriate for the whole school population which are inclusive and reflective of our pupils.
Equality in Admissions and Exclusions
Our admissions arrangements are fair and transparent and do not discriminate on the grounds of race, gender, religion, belief, disability and/or socio-economic background.
Our Environment and Ethos
Our school is committed to not only eliminating discrimination, but also increasing understanding and appreciation for diversity. We believe that a greater level of success from pupils and staff can be achieved by realising the uniqueness of individuals. Creating a prejudice-free environment where individuals feel confident and at ease is a commitment of the school.
This environment will be achieved by:
Following our school rules and living through our values
Always treating all members of the school community fairly.
Developing an understanding of diversity and the benefits it can have.
Adopting an inclusive attitude.
Adopting an inclusive curriculum that is accessible to all.
Encouraging compassion and open-mindedness.
At Cookridge Primary School our pupils are taught to be:
Understanding of others.
Celebratory of cultural diversity.
Eager to reach their full potential.
Inclusive.
Aware of what constitutes discriminatory behaviour.
Equal Opportunities for Staff:
All staff appointments and promotions are made on the basis of merit and ability and in compliance with the law. We are keen to ensure that the staffing of the school reflects the diversity of our community.
The school's employees will not:
Discriminate against any member of the school.
Treat other members of the school unfairly.
The school's employee's will:
Promote diversity equality.
Encourage and adopt an inclusive attitude.
Lead by example.
Equality Objectives:
Cookridge Primary School is committed to promoting the welfare and equality of all its staff, pupils and other members of the school community. To achieve this, the school has established the following objectives:
Monitor changes to the curriculum to ensure they result in good outcomes for pupils in all vulnerable groups.
To develop pupil knowledge of equality and diversity by weaving it through our school ethos and practises.
To embed the British value of tolerance and mutual respect
Cookridge Primary School's Phonics - Twinkl Phonics
The Twinkl Phonics Programme offers a coherently planned sequence of lessons that supports the effective teaching of phonics within EYFS, KS1 and, where appropriate, KS2.
Level 1 Twinkl Phonics provides themed teaching packs for nurseries and preschool providers to deliver each of the DfE's Phase 1 phonics aspects. Throughout Level 1, young learners develop
the knowledge, skills and understanding to discriminate between and use auditory, environmental and instrumental sounds. Level 1 is taught in the EYFS and runs throughout the teaching
of phonics Levels 2-6. In reception, children work within Levels 2-4. Here learners are introduced to phonemes/sounds and graphemes/letters systematically. They also learn to develop and
applyblending and segmenting skills for reading and writing.
Within KS1, children work within Levels 5 and 6. The coherently planned sequence of lessons within Level 5 allows opportunities for children to apply their phonics knowledge and skills as
the prime approach to reading and spelling. It focuses on phonetically decodable two-syllable and three-syllable words and the alternative ways of pronouncing and representing the long
vowel phonemes. Furthermore, children will develop their ability to attempt to read and spell increasingly complex words. By Level 6, children explore spelling patterns and grammar while also
developing a breadth of knowledge, skills and understanding in the recognition and spelling of common exception words.
The Twinkl Phonics Programme intends to not only provide children with opportunities to develop the knowledge, skills and understanding essential for reading and writing, but also, to develop
each child's confidence, resilience and engagement in phonics lessons and a love for reading and writing.
Cookridge Primary School's reading scheme
Cookridge Primary school has a levelled reading scheme that uses a combination of books from the following schemes:
Oxford Reading Tree
Oxford Reading Tree – Project X
Big Cat Phonics – Collins
School Reading Levels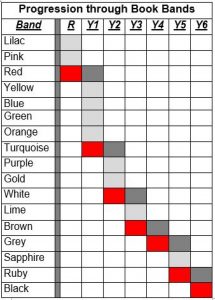 To supplement this, each Key Stage has the 100 book challenge in which children are challenged to reading a selection of books from a range of different authors over a period of 2 years.
In addition to these schemes we have vast selection of books that children can use as free reading materials and access them on a weekly basis.