KS1 – Newsletter – 22.4.22
Welcome back everyone! We hope that you've all enjoyed the extended break and had a great fun doing things with your family.
In English, Year One have written fact files about the their animals. Thank you for remembering to send them in! They have been weighing, measuring and using them to help us learn about suffixes. Year two have been doing some reading comprehensions around our new topic of animals. They have been identifying features of an information text. They read a variety of statements around the topic of school and put them into different categories to then write into paragraphs for their own information text.
Year One have been amazing in maths as they started an introduction to multiplication- counting in 2, 5 and 10's. They used lots of practical ways to help them understand – even using and counting our shoes! In Year two, one group have been finding the fraction of a number and the other group has begun to look at measurements. They have started to read scales and learn which units of measurement are used for measuring length, weight and capacity.
Our new topic in Science is Animals including Humans. We began by looking at lots of pictures of animals. We grouped them in various ways. We looked at which were adults and babies. We then grouped them in pairs of adults with their babies. We looked more closely at which animals look like their adult and which ones don't.
Over the next half term, we will all be learning about animation. We will be looking at how important it is to have pictures in the correct sequence. Each class will be running a carousel of activities and by the end of the half term, each group will have completed them all. One group will be looking at pictures from stories and sequencing them to ensure they tell the story in the correct order. One group will be drawing and making flip books – seeing how still pictures can look as though they are moving. The final group will be on Purplemash using the 2animate program, to make moving animations. They will be learning how to draw something simple like a snake and make it move across the screen.
There is a new homework grid on the website and the children should also have received a paper copy. Please remember, this is an optional homework and although children will receive team points for completion, they do not have to do any of the activities.
Mrs Koopman's daughter Ruby, is continuing her fund raising and has another event coming up on 21st May 4-6pm. It is a ticketed event and if you would like a ticket, please see Mrs Koopman.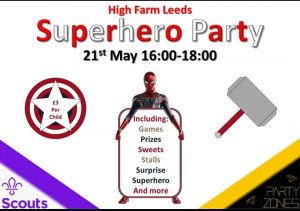 Key Dates:
29.4.22 Pet day – We will be dressing up as pets (Please do not buy an outfit! Wear an appropriate colour, we can help with headbands for ears etc..) We will also be asking for photos of your pets to be included in our virtual pet show.
13.6.22 – Trip to Cannon Hall Farm – Any problems with payment for the trip, please contact the school office.